Information for healthcare professionals in Sweden only.
An adrenaline auto-injector for emergency treatment of anaphylaxis
Delivering the right dose to the right place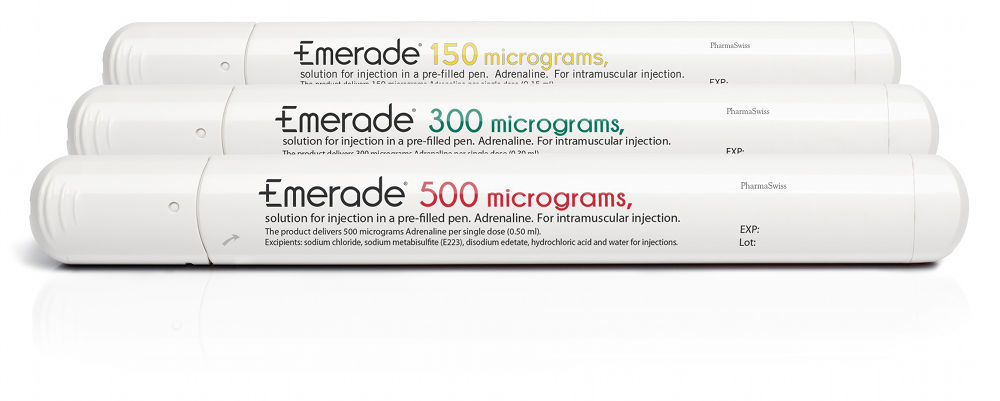 Allergy specialists have asked for a simple and intuitive adrenaline auto-injector (AAI) with a longer needle and a higher dose.
Emerade:
Offers a higher dose: 150, 300 and 500 mcg.
A longer needle increases the likelihood of an IM injection in more patients.
Is intuitive and easier to use than other AAIs.12
Emerade is a Prescription only Medicine and is available in pharmacy in Sweden, Norway, Denmark, Finland, the Netherlands, the UK, Ireland, Czech Republic and Germany.
Higher dose for adults
Other AAIs are available in 150 and 300 mcg dose. The recommended adrenaline dose for the treatment of anaphylaxis is 5-10 mcg/kg. Thus, a 300 mcg dose is too low for most adults.
The Swedish Society for Allergology recommends 500 mcg dose for patients above 60 kg.14
In the UK, BNF/NICE recommend 500 mcg in adults and children over 12 years for self-administration, and the UK Resuscitation guidelines for healthcare providers recommend 500 mcg for most patients above 12 years.1,15
A study from 2020 from the UK in food allergic teenagers investigated the safety and pharmacokinetics of Emerade 500 and Emerade 300 micrograms. Emerade 500 mcg resulted in a higher peak, a more favorable plasma epinephrine profile and better cardiovascular consequences than Emerade 300 mcg. Emerade 500 mcg was well tolerated without increase in adverse events.
Emerade is available in a 150, 300 and 500 mcg dose.
Intuitive and easier to use than other AAI
In an emergency situation, it is vital that patients and carers intuitively know how to use their AAI.
Press play to watch the instruction video:
All used Emerade correctly
In a simulated emergency situation 100% of test persons used Emerade correctly, without any prior training. This compares to 64% for Jext and 33% for Epipen.
Emerade®

100%

Jext®

64%

EpiPen®

33%
Injected correctly
"Emerade is an intuitive easy to use AAI compared to JEXT or EpiPen.", says Dr Knibb.12
A longer needle increases the likelihood of an IM injection in more patients
Intramuscular injection is recommended for faster adrenaline effect compared to subcutaneous. Plasma peak after 8 minutes for IM and 34 minutes for SC.2,3,4
For an IM injection, the UK Resuscitation Council guidelines for healthcare providers recommend a 25 mm needle for all ages. For small infants, a 16 mm needle is suitable.1
Short needles a problem for women and children
Epipen and Jext have needle lengths of 13–16 mm5,6, which may be too short for many adults and children.
Based on needle length only, up to 61% of children above 30 kg7,8 and up to 54% of women9,10 would not receive an IM injection with 13-16 mm needles.
Emerade has the longest needle
Emerade has a 23 mm needle for the 500 and 300 mcg dose and a 16 mm needle for the 150 mcg dose16. The longer needle increases the likelihood of an IM injection in more patients.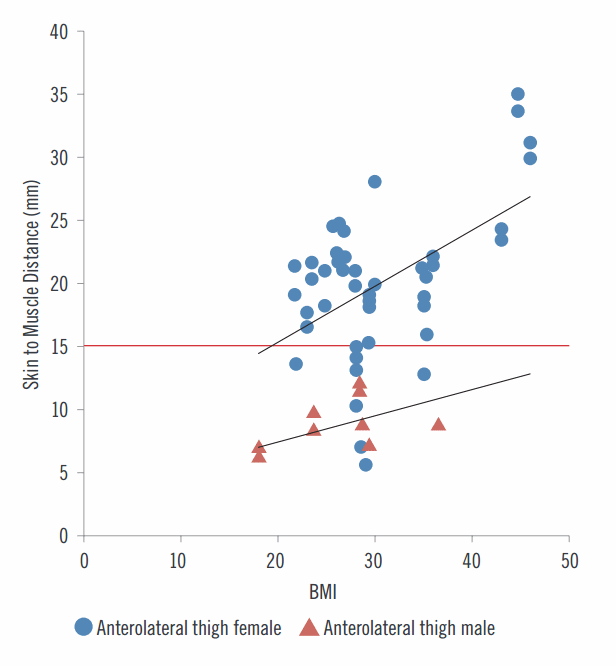 The most preferred adrenaline auto-injector
In a study with 90 persons, 74.4% preferred Emerade compared to 5.6% for Jext and 4.4% for EpiPen.
Emerade was rated as having the best method of instruction, clearest instructions to follow, easiest to use and the one most people would like to carry (all p < 0.001).13
Emerade®

74,4%

Jext®

5,6%

EpiPen®

4,4%
Most preferred
Quick patient training
Patients and carers learn how to use Emerade with an instruction video.
---
References
Resuscitation Council (UK). Emergency treatment of anaphylactic reactions. Guidelines for healthcare providers. London, 2008, 50pp.
Simons, F.E. et al. World Allergy Organization Guidelines for the assessment and management of anaphylaxis. J Allergy Clin Immunol, 2011; 127:587-593.
Simons, F.E.R., Roberts, J.R., Gu, X., and Simons, K.J., Epinephrine absorption in children with a history of anaphylaxis. J Allergy Clin Immunol, 1998. 101: p. 33-7.
Simons, F.E.R., Gu, X., and Simons, K.J.,Epinephrine absorption in adults: Intramuscular versus subcutaneous injection. J Allergy Clin Immunol, 2001. 108: p. 871-3.
Stecher, D., Bulloch, B., Sales, J., Schaefer, C., and Keahey, L. , Epinephrine auto-injectors: Is needle length adequate for delivery of epinephrine intramuscularly? Pediatrics, 2009. 124: p. 65-70.
Bewick, D.C., Wright, N.B., Pumphrey, R.S., Arkwright, P.D. Anatomic and anthropometric determinants of intramuscular versus subcutaneous administration in children with epinephrine autoinjectors. J Allergy Clin Immunol Pract, 2013; 1(6):692-4.
Song, T.T., Nelson, M.R., Chang, J.H., Engler, R.J.M., and Chowdhury, B.A., Adequacy of the epinephrine autoinjector needle length in delivering epinephrine to the intramuscular tissues. Ann Allergy Asthma Immunol, 2005. 94: p. 539-42.
Bhalla, M.C., Gable, B.D., Frey, J.A., Reichenbach, M.R., Wilber, S.T. Predictors of epinephrine autoinjector needle length inadequacy.Am J Emerg Med, 2013 (in press, available on line).
Hobbins S, Johnstone J, O'Hickey S. Subcutaneous tissue precludes intramuscular injection in the majority of patients prescribed epinephrine auto injectors, EAACI 2014, p 698YY.
Knibb, R.C., Morton, K. Accuracy in use of adrenaline auto-injectors in a simulated emergency situation: a comparison of JEXT, EpiPen and Emerade. Clin Trans Allergy, 2015; 5(Suppl3):O5
Knibb, R., Morton, K. Preference for adrenalin auto-injector for use in an emergency situation by non-allergic adults: A comparison of Jext, EpiPen, Emerade and Auvi-Q. BSACI Annual Meeting 2014.
Svenska Föreningen för Allergologi (SFFA). Anafylaxi. Rekommendationer för omhändertagande och behandling. Rev 2015.
Turner, P.J., Patel, N., Isaacs, E., Duca, B., Mohammed, H., Nagaratnam, N., Donovan, J. Safety and pharmacokinetics of 0,3 mg / 0,5 mg epinephrine injection by autoinjector in food-allergic teenagers: A randomized cross-over trial. 2020 AAAAI Annual Meeting; P019., 2020.
Patient information leaflet, Summary of Product Characteristics and side-effects on fass.se (in Swedish).
Product: Emerade
| Dose | Patient group | Price |
| --- | --- | --- |
| 150 µg/dose | children 15-30 kg | 394 SEK |
| 300 µg/dose | children and adolescence over 30 kg | 394 SEK |
| 500 µg/dose | adults and adolescense (not for children) | 412 SEK |
Adrenaline. ATC-code: C01CA24; Rx, Ff, Solution for injection in pre-filled pen, Emerade is indicated for the emergency treatment of severe acute allergic reactions (anaphylaxis) triggered by allergens in foods, medicines, insect stings or bites, and other allergens as well as for exercise-induced or idiopathic anaphylaxis.
EpiPen® is a registered trademark of Mylan Inc. Jext® is a registered trademark of ALK-Abello. The companies do not sponsor or endorse the products referenced on this web page.